Biography
William Ewald practices in litigation defense with an emphasis on product liability, premises liability, construction litigation, personal injury defense, negligence, insurance coverage, and professional malpractice. Bill has extensive trial experience in the practice of law, including several years of government service as a former Assistant Prosecuting Attorney for Saginaw County and as an Assistant United States Attorney, in the organized crime and white collar crime sections of the U.S. Attorney's Office, Western District of Michigan. Bill was the lead prosecutor in the only case to arise from the Jimmy Hoffa disappearance, and was also the lead government prosecutor in the controlled substances case involving comedian Tim Allen.
Bill is a member of the Michigan Bar Association, Saginaw County Bar Association, Bay County Bar Association, the Federation of Defense and Corporate Counsel [FDCC] (limited to 1,100 trial lawyers worldwide). He has tried cases throughout the state and federal courts of the state of Michigan and has tried cases and/or represented clients in matters in Alabama, Arizona, California, Florida, Illinois, Indiana, Kentucky, Louisiana, Maine, Michigan, New Hampshire, New York, Ohio, Oklahoma, South Carolina, Tennessee, Texas, Virginia, Washington and Wisconsin.
In past years, he has been a frequent panelist of the Property Loss Research Bureau and lecturer in the insurance industry. He has published articles and lectured throughout the country on a variety of topics.
Bill was the only attorney in eastern Michigan, outside of the Greater Metropolitan Detroit area, chosen to be included in a listing of outstanding attorneys from across the country, in the SuperLawyers, Corporate Counsel Edition, published March/April 2009. Bill was also named one of Michigan's top lawyers for four consecutive years by the Michigan SuperLawyers Magazine and also received several commendations, letters and citations for his hard work and professionalism in his career. Bill is also committed to the community and takes those responsibilities serious as former Chair of the Saginaw Arts & Enrichment Commission [2007-2009] and Vice Chair [2005-2007], overseeing programs and services, enhancing education to the public and recommending direction of investment and providing grants for various cultural enrichment activities. He was appointed a Commissioner of the Saginaw Arts & Enrichment Commission in 2004 and began his second term in 2007and continues to serve presently. Bill and his wife, Dee, have served on the Field Neurosciences Institute's Board of Directors since 2009, and have formerly served as Co-Chairs of the Underwriting Committee for FNI's Fall Gala fundraiser benefit for six consecutive years, with proceeds going to nursing scholarships, a handicap accessible sprinter van, state of the art equipment for the FNI Research Lab, as well as to launch Endowed Research Fellowships for CMU or SVSU students to work with the FNI research staff in Saginaw to identify the possible causes of and potential treatments for Alzheimer's disease and other neurological disorders that are being studied by FNI researchers.
Recognitions
2018 America's Top 100 Civil Defense Litigators for Michigan
Michigan's Top Lawyers Michigan's SuperLawyers Magazine - 3 consecutive years
​
​
​
​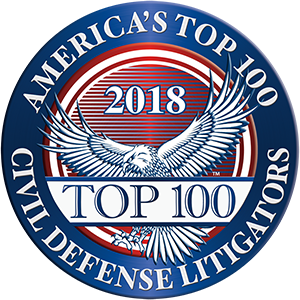 Community Involvement
Saginaw Arts & Enrichment Commission, Chair
Saginaw Arts & Enrichment Commission, Vice Chair
Saginaw Arts & Enrichment Commission, Commissioner
The Federation of Defense and Corporate Counsel [FDCC], Member